The world of music in general has been one of the most changing industries of all time. Since its beginnings in antiquity (even the beginnings of humanity) music has been constantly moving between its own theoretical and technical development; variations in its modes and scales; styles that are maintained or feed back on each other to give way to new forms; instruments that adapt to the demands and customs of each taste; and today adapting to technology and its unstoppable advances at the height of a new era.
And part of this new era has been the boom of NFTs, which have united the world between the physical and the digital, embellishing the "metaverse" and creating what we call now the Web3.
Music brings us together
The World of Music (WOM) is an exclusive members' club of 8,888 WOM NFTs that gives holders access to the ultimate music experience. The world is composed of three interactive concepts: the studio, festival, and backstage. Each of these concepts can be accessed virtually through the Metaverse and physically in major cities across the world.
Created by multi-platinum artist @willywilliams and @wtfis54, the WOM Metaverse welcomes artists from all genres and parts of the world, strengthening the foundation for the future of Web3 music.
WOM was designed to remove the barriers that exist between fans, artists, and the music we all love. Join us backstage, as we redefine the music experience.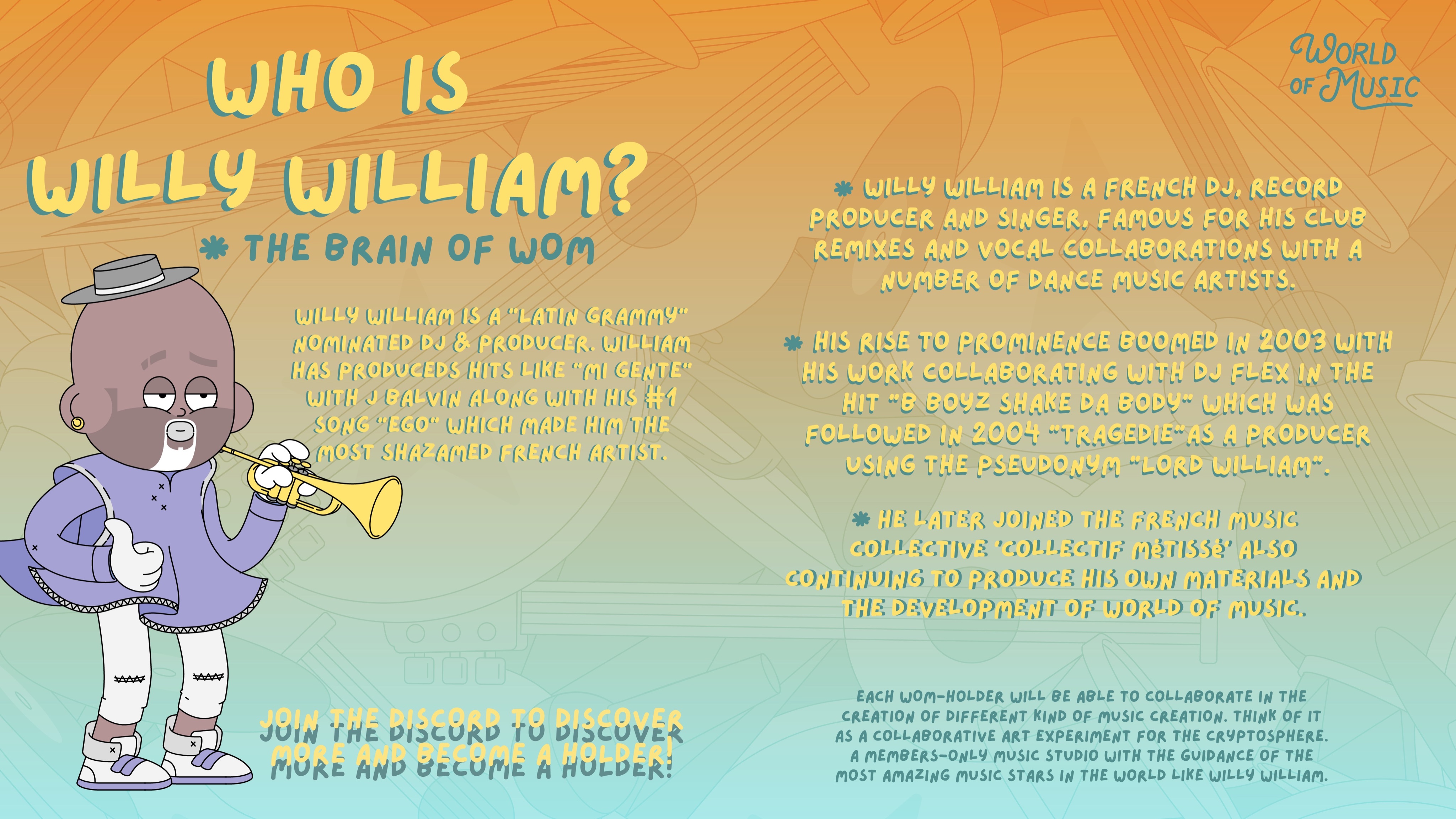 WOM FESTIVAL
Imagine, flying to LA to the WOM Malibu Studio and record your music ideas with Willy Williams, and after that, go home with 5$ k in CASH.
The festival is an interactive space where WOM holders can experience art and community through exclusive music events. Through our events, WOM holders will have the opportunity to meet music fans from around the world.
● Concerts
● Music Festivals
● Artist Activations
● Artist-led experiences