Flipkick will sell physical NFT works and hopes to collaborate with celebrities and influencers
It might sound Ludacris, but the rapper Ja Rule is the newest player in the NFT art scene. Partnering with a team of software engineers, the Always on Time star is now the head of artists and repertoire for the digital art platform Flipkick, which launched today and focuses on selling physical works of art as NFTs.
While most NFTs, such as Beeple's record breaking Everydays: The First 5,000 Days (2021), exist completely digitally, many of the works to be offered on Flipkick are tangible objects that will be authenticated by a "cryptographically secure link" to an NFT. Once the piece is sold at auction, the buyer can resell it, or choose to redeem the token for the physical work of art. Flipkick claims to be "the first company to offer cryptographic authentication of physical works of art sold as and linked to NFTs".
"If you're old like me, you're used to having tangible things to collect. But you've got to let your mind be open to the new," Ja Rule tells The Art Newspaper in an interview. "I feel like we can be the Christie's of physical NFTs. We want to involve celebrities and dope influencers. Banksy, if you're reading this, Rule would love to sell you baby!".
To inaugurate the platform, Ja Rule will sell a work that he commissioned when he co-founded Fyre Festival, the infamous music event that never was.
The 2017 painting by Tripp Derrick Barnes depicts the festival's logo and once "hung confidently on the wall of the office of Fyre Inc, in New York" according to its description on Flipkick's website: "Barnes' painting once spoke of an endless font of ambition. Now it speaks of the fever dreams of a man whose reach exceeded his grasp." It carries a reserve of $600,000.
Ja Rule says he currently stores the painting at home in his "man cave" but that it represents a period of his life he wishes to move on from. "I don't need this energy anymore, so I want it out of my house," he says. Ja Rule releases it to world with the pointed note: "Fuck this painting."
Touted as a "once-in-a-lifetime" music festival in the Bahamas, Fyre Festival was widely promoted on social media platforms by a slew of celebrities and other influencers promising luxury catering and world class music acts with VIP packages selling for $100,000. But through a combination of gross mismanagement, bad luck and outright lies, the façade crumbled, culminating in a catastrophe that left would-be partygoers stranded on an island without accommodation and substandard food, provoking a series of lawsuits totalling more than $100m against the organisers.
Fyre Festival's other co-founder Billy McFarland pleaded guilty in 2018 to two counts of wire fraud and was sentenced to six years in prison, forfeiting more than $26m taken in from the scheme. Ja Rule, however, was cleared of any wrongdoing by a judge in 2019.
"I learnt so much from Fyre Festival", the rapper says. "One of the major takeaways is that you can't let somebody else put on your glasses. I relinquished my vision to someone else and the business didn't get handled properly. I'm sad that I had to learn these lessons in such a public and crazy way, but you grow with these lessons."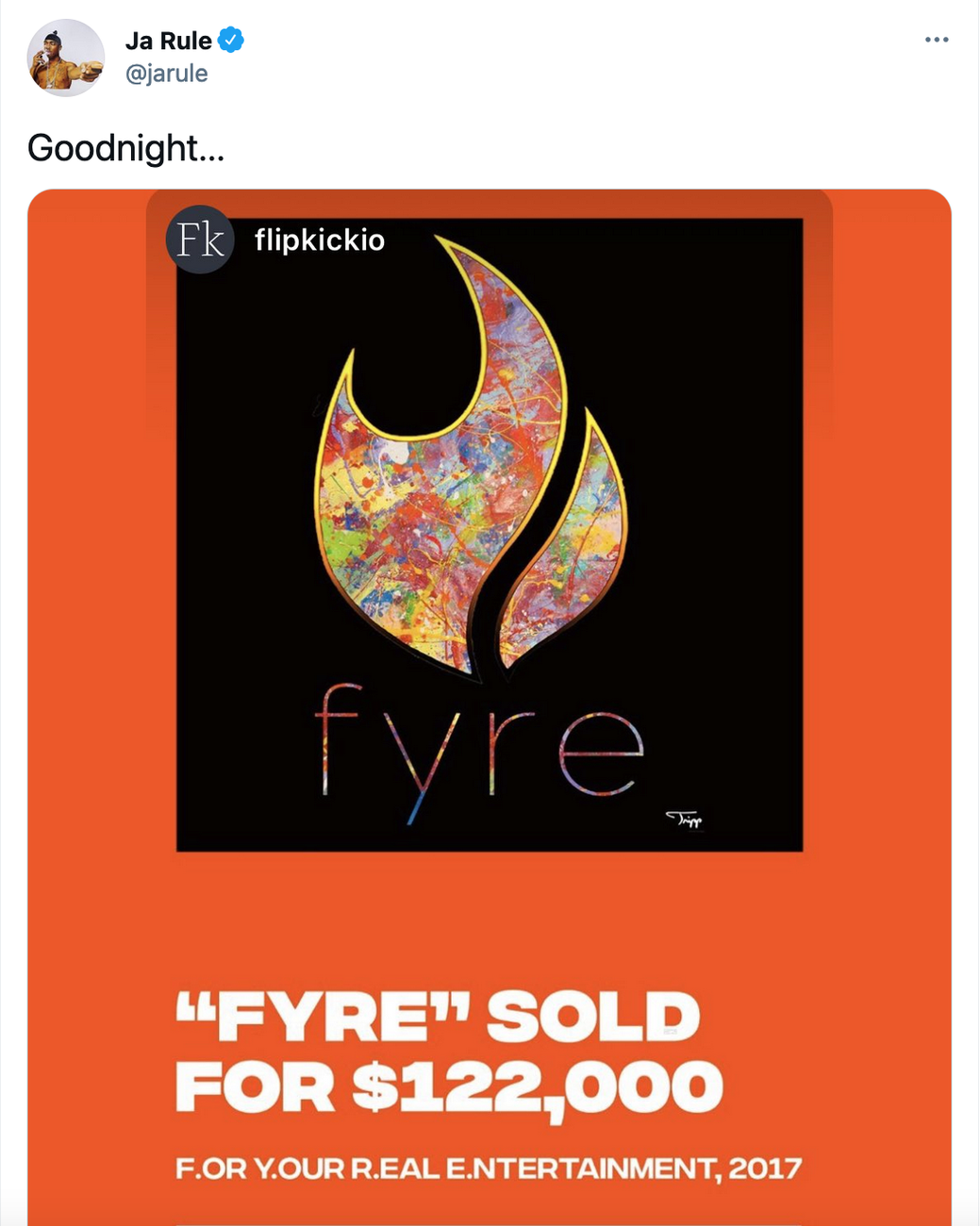 Why it matters: Because markets are efficient.
What it means: NFTs, or non-fungible tokens, are typically digital or virtual items (music, artwork, video game powers) that are accompanied by a blockchain ownership record, but can also include real-life items with a digital ledger entry.
It gets better: In addition to the painting, the NFT includes a note from Ja Rule that says, "F—k this painting." An autograph is also available upon request, according to Complex.