Bitcoin's growth shows no signs of slowing down, according to data. This week, Galaxy Research and Mining published a second report in their series on Bitcoin Inscriptions and Ordinals. Galaxy Research and Mining is a digital asset and blockchain firm that has been developing a comprehensive financial platform since 2018. Its platform offers services like trading, lending, investment solutions, bitcoin mining, and more.
The initial report from March 2023 served as an introduction to the advent of Ordinals as a novel avenue for digital collectibles within Bitcoin. The most recent report delves into the advancements and changes in this domain since that time.
Core Insights
According to the report, in the first 200 days of Bitcoin Ordinals, 1.14 million image-based inscriptions were created. This growth is faster than the first 200 days of NFTs on Ethereum, Solana, and Polygon combined. This report does not include volume from BRC-20 tokens. However, even without BRC-20 token inclusion, Bitcoin remains as the third most popular chain for digital collectible activity.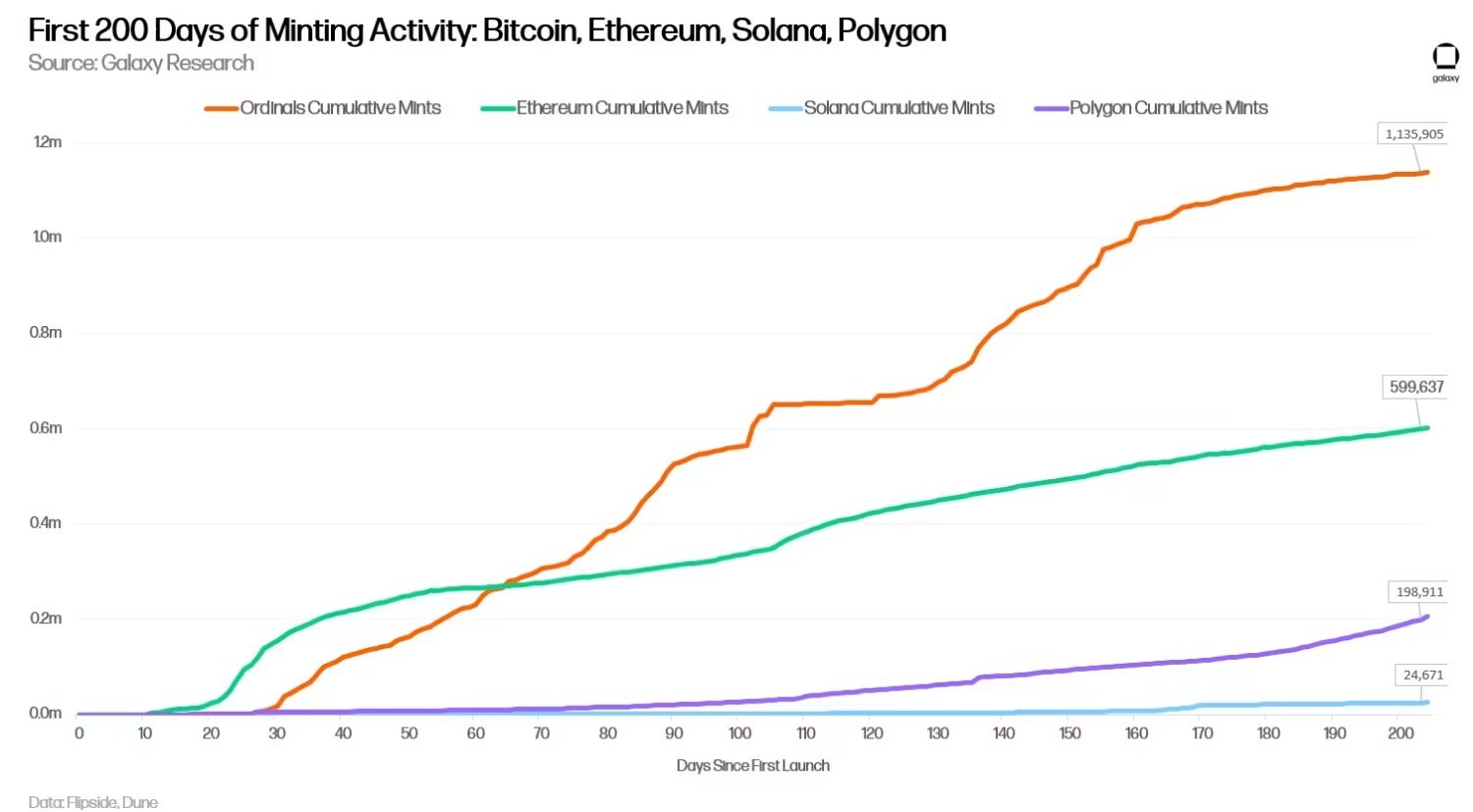 Bitcoin ranks alongside Ethereum and Solana as one of the top blockchains for NFT creation and trade. By the close of 2023, Ordinals are projected to reach a trading volume of roughly $725m.
Overall NFT Trading Volume
It's important to note that despite this upward trend, overall NFT trading volumes across all chains have been on the decline. According to data from Cryptoslam, NFT sales dropped 8.7%, from 4.2 billion in September 2021 to $3.8 billion in October 2023.
Galaxy Research states that from February to August 2023, there was a consecutive six-month decline in monthly NFT trading. August 2023 stood out as the most challenging month for NFTs, with a volume of $500 million, marking a fourfold decrease from February 2023. In addition, data from Cryptoslam also shows that the most recent month of September 2023 brought in $294 million in total sales, representing the lowest NFT sales since January 2021.
Before major NFT marketplaces embraced Ordinals, a few early platforms like Ordinals Market, Ordinals Wallet, and Ordswap were dominant in early 2023. However, this dominance shifted when Magic Eden started supporting Ordinals in March 2023, marking a major turn as they were the first large NFT marketplace that had supported NFTs on other chains to adopt Ordinals. According to the chart below, the top marketplaces for Ordinals by volume are Magic Eden, Unisat, and OKX, holding market shares of 28%, 28%, and 38%, respectively.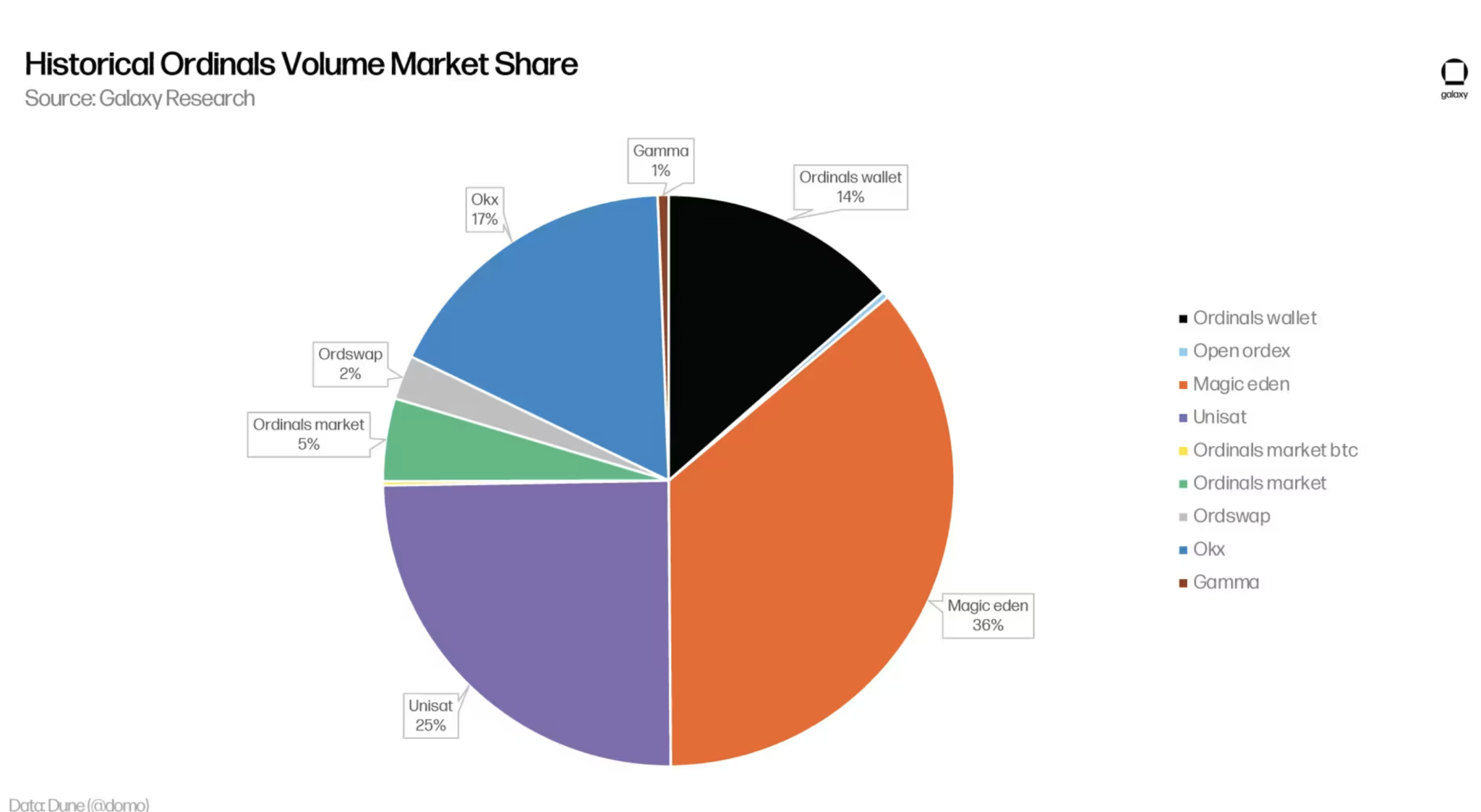 Highlighted Ordinals Developments
The report also mentioned new features of Ordinals, such as recursive inscriptions, reinscription, parent-child provenance, and more. Recursion allows users to open up new pathways for interoperability within the Bitcoin ecosystem. According to Xverse, Recursive ordinal inscriptions are a way to retrieve data from existing inscriptions on the Bitcoin network and use that data to create new, unique inscriptions. Methods such as envelopes and parent-child inscriptions are also revolutionizing how we catalog and authenticate the origins of Ordinals.
While some critics argue that NFTs are 'worthless' digital artifacts, this report underscores the significance of blockchain technology, exemplified by Bitcoin, in driving forward digital assets and collectibles.
The enduring influence of Bitcoin, as presented through data, serves as a testament to the potential long-term value and relevance of NFTs in the broader digital economy. With Inscriptions and Ordinals only in their initial year, there is vast potential for further growth and development, including the likelihood of additional Bitcoin adoption. In fact, Galaxy Research estimates that the market size of Bitcoin NFTs built on Inscriptions and Ordinals will reach $4.5 billion by 2025. In short, it's only the beginning.
---
Source: nftnow.com